Markets, Fairs & Workshops
Next up, find us at: Oakbrook Artisan Market, Sept 30-Oct 1, 2023 at Oakbrook Center, IL! Get details on this and other upcoming events like maker markets, art fairs, DIY workshops and more!
2023 Events
Succulent Terrariums
Our gorgeous glass gardens are filled with eclectic mixes of vibrant, hardy succulents. These low-maintenance open-air terrariums are the perfect way to bring the zen beauty of nature into any environment.
See more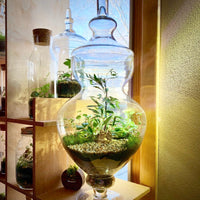 Tropical Terrariums
Our enclosed terrariums are filled with lush, moisture-loving plants like ferns and mosses. These self-contained ecosystems create magical, verdant little rainforests that are ultra low-maintenance.
see more
Care Instructions
Even if you've never had much success with other houseplants, terrariums are very simple to care for once you know the basics. You just need to provide the right amount of light, and minimal watering.
Learn more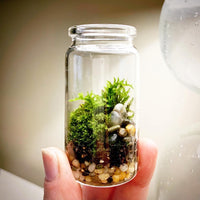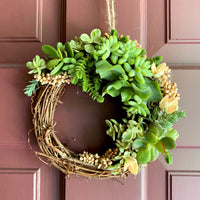 Seasonal Designs
Springtime, autumn harvest, halloween or winter holidays, our seasonal designs are the perfect complement to any celebration. Bring a lovely, live gift to the party or create a stunning holiday table-scape.
see more
Shop Local!
Find our beautiful terrariums at several awesome stores in the greater-Milwaukee area.
Shopping local and supporting small local businesses helps our local economy thrive!
Find Us!